Seminar: Tocqueville on religion in democracies: natural or supernatural?
Dr. Üner Daglier
Post-doctoral fellow
9 Oct 2013 (Wed)
4:30-6:00
Room 4.36, Run Run shaw Tower, Centennial Campus, HKU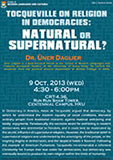 Abstract:
In Democracy in America, Alexis de Tocqueville argued that democracy, by which he understood the modern equality of social conditions, liberated ordinary people from traditional restraints against material well-being and bodily enjoyments. Paradoxically, the excessive desire for well-being in modern democracies was detrimental to freedom, and it could best be moderated by the ascetic influence of supernatural religions. However, the traditional belief in supernatural religions was undermined by the sovereignty of the people, or the reigning dogma in democracies, and the skeptical habits it fostered. Following the example of American Puritanism, Tocqueville recommended a reformed Christianity for Europe that was viable for democracies, but democracy was eventually bound to produce its own religion within the limits of humanity.
Biography:
Üner Daglier is a post-doctoral fellow at the School of Modern Languages and Cultures (European Studies) at the University of Hong Kong. He earned his doctorate from the political science department of Boston College in 2005.
All are welcome. No registration is needed.