Seminar: The Idea of European Literature
Professor Wlad Godzich
University of California at Santa Cruz
Date: Wednesday 10 October 2012
Time: 4:30 - 6pm
Place: Room 2.16, Run Run Shaw Tower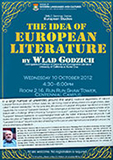 Abstract:
In a large number of universities around the world, traditional departments of national European literatures (French, German, Italian, etc.) are being closed or amalgamated into larger entities, often called 'European Literature(s).' At the same time, the process of European integration has elicited an insistent inquiry into the notion of 'European Literature.' The convergence of these two forces presents scholars of Literature with a challenge: What is meant by 'European Literature?' I will argue that the shift from 'national' to 'European' literature represents an epistemological break with the notion of literature that still prevails. I will review the pillars of 'national' literature, focusing particularly on aesthetics and representation, and show that 'European Literature' requires a practice of reading that focuses on post-representational strategies and on the ethical dimensions of literature.
About the speaker:
Wlad Godzich holds a PhD in Comparative Literature and Romance Philology from Columbia University. He has taught at Yale, the University of Minnesota, the Université de Montréal, the University of Toronto, and the Université de Genève. He is currently Distinguished Professor of General and Comparative Literature at the University of California at Santa Cruz. He has held visiting professorships on all five continents, and has also served in various administrative capacities. His scholarly work has focused on the materiality of literary communication and on the relationship of literature to philosophy and to historical conditions. He helped fuel the turn to 'theory' with the one hundred volume-strong series Theory and History of Literature (University of Minnesota Press). He has introduced the concept of 'emergent literature' and launched the study of prosaics.
All are welcome. No registration is required.